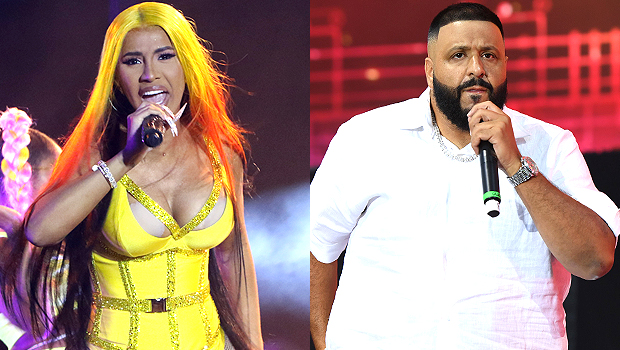 Cardi B Name Drops Her Daughter On New DJ Khaled Collab & Fans React! Cardi B has seemingly transitioned from making those "money moves" to getting that "Big Paper," owing to the way she celebrated this success on DJ Khaled's new album. In "Big Paper," that dropped today, Friday (April 30) as part of Khaled Khaled, Cardi gets to reunite with the legendary producer for another track, sending a message to all her haters: "I get big paper, so I deal with big haters." Cardi goes to the extent of name dropping her two-year-old daughter, Kulture, in one of her disses.
"I son b–ches, move Kulture out thе car seat," she spits in one verse, which left fans talking. "Cardi had to be pissed," said one fan in a tweet after quoting the diss, while another fan quoted the same line and saying, "Cardi went crazy on Big Paper!"
LIVE FOOTAGE OF CARDI TELLING KULTURE TO GET OUT OF HER CAR SEAT BECAUSE SHE'S ABOUT TO SON ME pic.twitter.com/WHddLh5sBy

— malik (@MalikLied) April 30, 2021
CARDI SAID "I SON BITCHES MOVE KULTURE OUT THE CARSEAT" Girl ?

— ??????? (??? ???????) (@iconicardi) April 30, 2021
It's almost hard to imagine that Khaled Khaled was almost dropping without this Cardi feature. DJ Khaled shared the track listing on Tuesday (Apr. 27), and the album was already overflowing with high profile features: Megan Thee Stallion, Post Malone, DaBaby, Justin Bieber Lil Baby, Rick Ross, A Boogie Wit A Hoodie, Sean "Puff Daddy" Combs, not to forget a track that featured both Nas and JAY-Z. That alone is a massive level of features, only for Khaled to announce on Thursday (Apr. 29), that Cardi got her vocals in on time and "Big Paper" would be part of the new project.
This song marks the third time Cardi B and DJ Khaled have joined forces. They previously connected on "Dinero," Jennifer Lopez's 2018 track, as well as Khaled's "Wish Wish" in 2019 featuring 21 Savage, who connected with Justin Bieber on "Let It Go" on Khaled Khaled.) "Big Paper" becomes Cardi's second major hit of 2021, after the chart-topping "Up."