Lists
Top 10 Hip Hop Fashion Lines Of All Time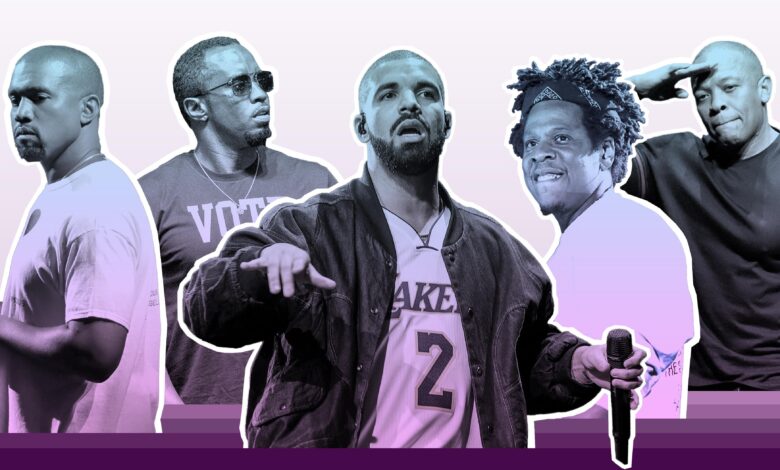 Top 10 Hip Hop Fashion Lines Of All Time! In the world of Hip Hop, fashion trends are equally as important as music itself. Most artists have taken an entrepreneurial route in the game of fashion, launching fashion lines from scratch and delivering fresh looks to the public at affordable prices. Most artists have found a way to monetize their products through, social media influence, endorsements and modelling deals. These are Top 10 Hip Hop Fashion Lines Of All Time.
10. 50 Cent – G Unit Clothing
In 2003, 50 Cent after hitting the peak of his career at such an early age, decided to diversify his ventures. Teaming up with Mark Ecko, he founded G Unit Clothing. That same year G unit Clothing landed a deal with Reebok to manufacture a G Unit shoe that same year.
9. Wu-Tang Clan – Wu Wear
The hip hop crew has had massive impact on hip hop industry and no other crew can match that. With a myriad of merchandising opportunities, a fashion line was inevitable. Wu Wear was the idea of Oliver Grant, an associate of the group. Following huge successes of Wu-Tang's first album, the fashion line realized huge sales and expanded rapidly across New York City.
8. Russell Simons – Phat Farm
Russell Simmons undoubtedly the first true hip hop entrepreneur. In 1984, Russell Simmons founded Def Jam with Rick Rubin. He got his first taste of success and went right into Hollywood movies and television shows production. Simmons came into the fashion game in 1992 when he founded the Phat Farm and Baby Phat labels. The brands were an instant success, offering unique hip hop style while maintaining a classic Polo vibe.
7. The Diplomats – Dipset USA
Since Childhood, Cam'ron and Jim Jones dreamed of hip-hop stardom. Cam'ron produced the first Diplomats album in 2002 after creating his own record label. Its commercial and cultural success sent shockwaves through the industry. Unfortunately, the Dipset heyday was cut short by internal disputes, and the group had virtually disbanded before the decade's end. Still, Cam'ron flexed his entrepreneurial muscle by creating the Dipset USA clothing line and showing hardcore fans some love. The Dipset brand is still fully functional in 2021, and new styles are coming out all the time. While the Diplomats may no longer be with us, the looks will live on.
6. Diddy – Sean John
Soon after the release of his first album in 1997, Combs (then known as Puff Daddy) designed and released his first collection of signature sportswear, Sean John. Definitely one of the most profitable brands so far on this list of Top 10 Hip Hop Fashion Lines, Sean John rakes in over $525 Million a year. Critics love the clothes, too. Combs has also received multiple accolades from the Council of Fashion Designers of America (CFDA) over the years. Nowadays, Sean John is known worldwide as a complete lifestyle brand, covering tailored suits, fragrances, hosiery, and timepieces in addition to its foundational sportswear lines.
5. Tyler, The Creator – Golf Wang
Tyler's Golf Wang fashion line is a true reflection of the artist's personality. Colorful, wacky, and at times completely over the top, the clothes are exactly what you'd expect from the Odd Future Icon turned Grammy-winning Solo Artist. Featuring everything from shoes, hoodies and sweats to hats, and accessories, Golf Wang has expanded drastically since it was launched back in 2011.
4. Drake – October's Very Own
The OVO Sound label has played an fundamental role in Drake's rapid rise over the past decade, but many will not recognize the success of the rapper's clothing line, having launched quietly back in 2011.
3. Jay-Z – Rocawear
It appears like Jay-Z has a hand in every possible area of business. Rocawear, founded by Shawn Carter in 1999, is yet another example of Jay-Z, making it look easy. He had just one album under his belt, and he was already diversifying! What made Rocawear stand out in a crowded late-90s fashion arena was the fact that it defined urban streetwear. Loose baggy jeans, Big puffy jackets, and super-comfy loungewear made one feel as though they were living a luxury lifestyle. With Rocawear having been sold in 2007, Jay-Z no longer has a stake in it, but it will always be remembered as one of his first big wins in business.
2. Pharrell – Billionaire Club/Ice Cream
Pharrell Williams brought his creativity to the fashion world back in 2005, founding Billionaire Boys Club, originally a collab with A Bathing Ape. After struggling for a while in its early years, it blew up as soon as Jay-Z became an investor in 2012. Sales nearly tripled the following year, and the fashion line has been a streetwear staple ever since.
Kanye West – Yeezy
Kanye is simply in a class of his own when it comes to vision and executing a business plan. Having dabbled in various fashion projects in the 2000s, he changed the game with the release of Yeezy Season 1 in 2015. Yeezy's have since become a fan-favorite for years now, and are now common all over from NBA courts to New York Fashion weeks.