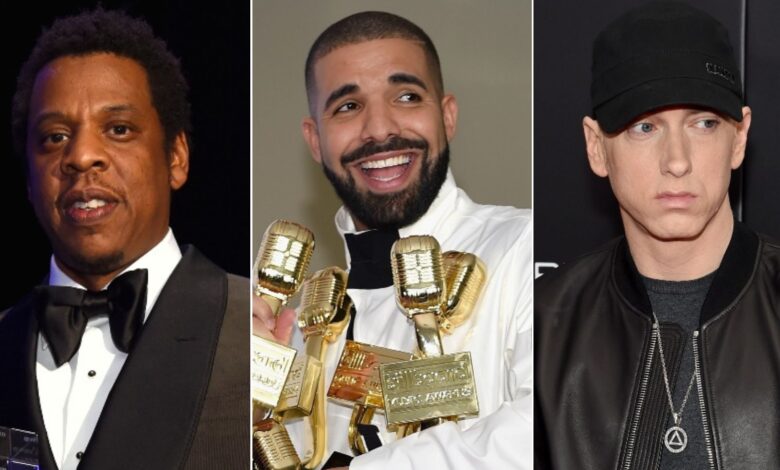 Here Are Top 10 Rappers With The Most Grammy Wins! The 63rd Annual Grammy Awards that went down last Sunday (March 14) was a historic event in many ways. Beyoncé set the bar higher with her record for the most Grammy wins ever. With 28, Beyoncé became the most decorated artist in Grammy history.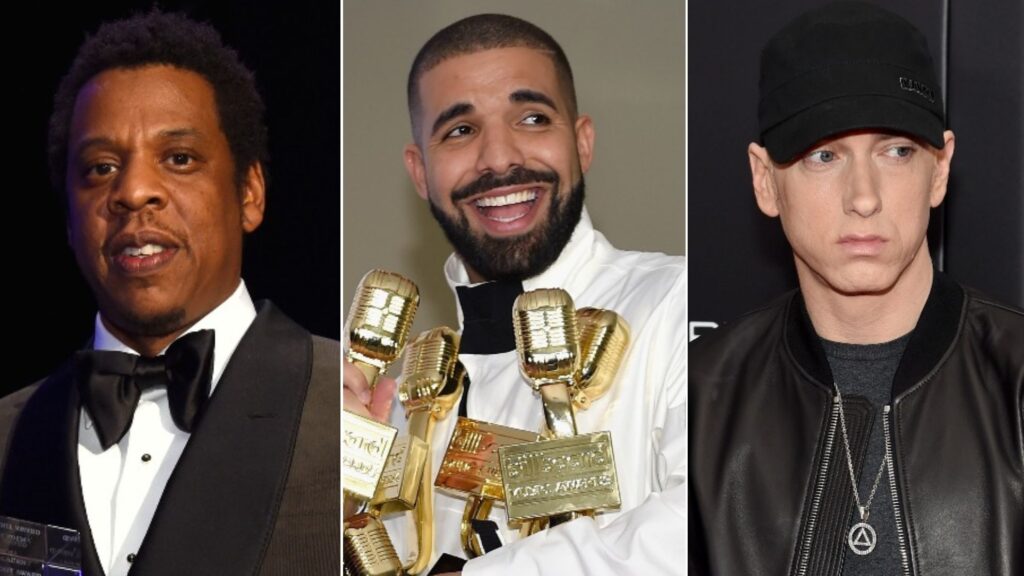 The Grammys are the highest musical accolades and rappers have all along been gunning for proper recognition by the Recording Academy. Hip Hop's relationship with the Grammys, may have been a complicated one in the past, nevertheless, it's every artist's hope that their body of work gets nominations when submitted to the Academy.
This year's event also saw Nas finally take home his first ever Grammy Award after his 2020 King's Disease emerged victorious as Best Rap Album, the iconic New York rapper is officially on the board with a huge victory that Royce Da 5'9 termed as "Hip Hop reparations."
With Kanye's bid to level up with his big brother Jay-Z atop the Grammy rap table, time will be the best determinant.
Below is the complete list of Top 10 rappers with the most Grammy Wins.
10. Childish Gambino
No. of Grammys: 5
Highlights: "This Is America," – Record of the Year, Song of the Year, Best Rap/Sung Performace and Best Music Video, "Redbone" – Best Traditional R&B Performance
9. Lil Wayne
No. of Grammys: 5
Highlights: "A Milli," – Best Rap Solo Performance, "Lollipop," – Best Rap Song, Tha Carter III – Best Rap Album
8. Outkast
No. of Grammys: 6
Highlights: Speakerboxxx/The Love Below – Album of the Year, Stankonia, – Best Rap Album, "Ms. Jackson" – Best Rap Performance by a Duo or Group
7. Dr. Dre
No. of Grammys: 7
Highlights: "Let Me Ride," – Best Rap Solo Performance, Producer of the Year, Non-Classical, Eminem's The Marshall Mathers LP – Best Rap Album
6. Lauryn Hill
No. Of Grammys: 8
Highlights: The Score with The Fugees – Best Rap Album, Herself, – Best New Artist, The Miseducation of Lauryn Hill, – Album of the Year, Best R&B Album, "Doo Wop (That Thing)" – Best Female R&B Vocal Performance
5. Pharrell
No. Of Grammys: 13
Highlights: Daft Punk's "Get Lucky," – Record of the Year, Kendrick Lamar "Alright," – Best Rap Song, "Happy" – Best Music Video, Best Pop Solo Performance
4. Kendrick Lamar
No. Of Grammys: 13
Highlights: "i," – Best Rap Song, To Pimp a Butterfly – Best Rap Album, "Humble" – Best Music Video, Best Rap Song, Best Rap Performance
3. Eminem
No. Of Grammys: 15
Highlights: The Slim Shady LP – Best Rap Album, "Without Me," – Best Music Video, "Lose Yourself," – Best Rap Song, "Not Afraid" – Best Rap Solo Performance
2. Kanye West
No. Of Grammys: 22
Highlights: The College Dropout – Best Rap Album, "Jesus Walks," – Best Rap Song, "Otis" with JAY-Z – Best Rap Performance, Jesus Is King – Best Contemporary Christian Music Album
1. JAY-Z
No. Of Grammys: 23
Highlights: Vol. 2… Hard Knock Life – Best Rap Album, "99 Problems,"- Best Rap Solo Performance, "Swagga Like Us" f. T.I. – Kanye West and Lil Wayne- Best Rap Performance by a Duo or a Group, Everything Is Love with Beyoncé – Best Urban Contemporary Album