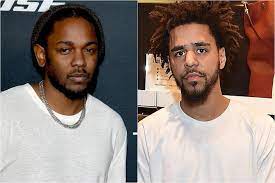 Kendrick Lamar And J. Cole's Camps Have Both Been Teasing New Music And Fans Can't Keep Calm! There is currently lots of speculation as far as two of hip-hop's greatest wordsmiths, Kendrick Lamar and J. Cole are concerned. Word has it that the duo could be planning to drop their latest musical offerings in a couple of weeks from now. The online chatter was triggered by TDE's head after he posted a teaser clip, claiming that "the wait is ovah!" and fans were quick to rush wondering about who could be dropping. Given the fact that it's been four years since Kendrick Lamar last dropped an album, fans of the Compton-based rap icon reacted with their hopeful thoughts on the teaser, hoping that it could signal their favorite artist's return.
Whreas the TDE hints could as well be for SZA, Ab-Soul, Isaiah Rashad, or anyone else on the packed label's roster, many remain optimistic that we might finally be getting a new project from Kung Fu Kenny. On the very same day, Dreamville's Bas came through with a statement, teasing J. Cole's highly anticipated The Off-Season and claiming that it could be arriving within two weeks.
With the likelihood that we could be receiving new music from Kendrick Lamar and J. Cole, the hip-hop community is getting ready for the tide to finally turn this year. So far in 2021, we have had a scarcity of high-profile releases.
Kendrick possibly dropping in a week, now J Cole dropping in two weeks.

This is all getting too good to be true ? pic.twitter.com/fDcODneVe5

— King Wow (@wowthatshiphop) April 29, 2021
J. Cole dropping in 2 weeks, Kendrick possibly dropping May 7th, Drake probably dropping soon and Kanye dropping this Friday in an alternate universe. We're finally winning ???

— Did DONDA Drop Today? (@didjesusdrop) April 29, 2021
Everyone is guessing Kendrick Lamar or SZA for TDE's May 7 release date. But what if it's Isaiah Rashad…………. pic.twitter.com/htR1gAzFVF

— Ronald Isley (@yoyotrav) April 28, 2021
TDE DONT PLAY WITH US PLEASE BE NEW KENDRICK LAMAR pic.twitter.com/WRf0BVrQdO

— Hasan♨️ (@flackospurity) April 28, 2021